Tips for Success with Peachjar
We've helped over 40,000 organizations connect with more than 12 million families nationwide, and we've compiled some of our best tips for success in this handy guide. Read on to learn our tips and tricks for successful outcomes with Peachjar. Check out this page for additional tips for making the most of your flyer postings.
Ensure your flyer meets a district's requirements by reading their

Flyer Guidelines

. These can be found for each district on Peachjar's School Find

er

.

From your account, navigate to the 'Submissions' page, click the "Find Schools Using Peachjar' and type the district name in the search bar

Make your flyer eye catching by using images and bright colors! Digital flyers are typically viewed on phones at thumbnail size. Look for images with contrasting colors or something that stands out and grabs your attention. Stay concise with 3-5 large bullets. Choose images that show people what your program has to offer.


Use Call-to-Action buttons to make it easy for parents to click through to 'sign up' or 'learn more' detailed information about your program by engaging directly on your website.


Upload your flyer at least 1 week prior to your distribution date. You can enter a future target date of distribution or select today's date on the calendar. Districts may take an average of 3-5 business days to review your flyer. No flyers will be distributed prior to approval.


Take advantage of Peachjar's flyer metrics so that you can see how many deliveries and impressions your flyer receives. This can help you with future flyer distribution!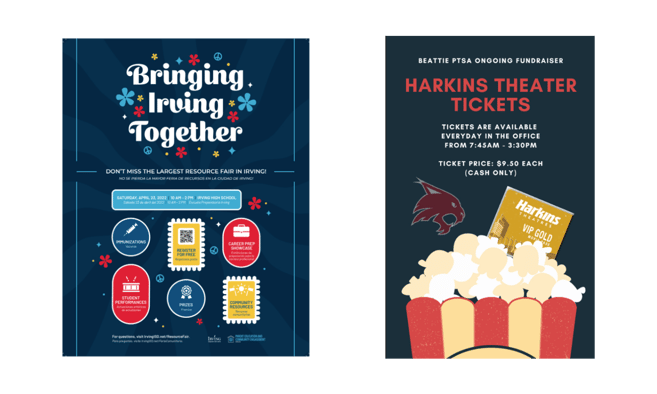 Peachjar Pricing
Download our pricing chart here.
Plan ahead! Take advantage of online bulk discounts automatically applied at checkout. Consider how many schools you plan to send your flyer to and how many events you might have in a year to identify the number of flyer distributions you'll need. Purchase distributions in advance—they never expire!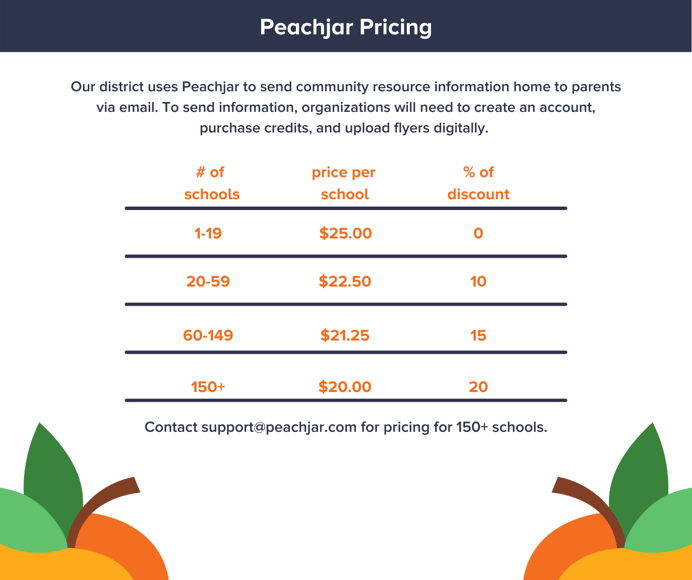 Save 50% by purchasing our Starter Kit for 40 flyer distributions. Most new organizations use this for best value and impact!
Questions? Let us help you, reach out to support@peachjar.com for more detailed pricing.
Community Free Flyer Program
Peachjar offers our Community Free Flyer Program to eligible organizations.
Want to know if your organization can participate? Check out our Guidelines to learn more.