How to Distribute Flyers
It's now easier than ever to send flyers to families! Peachjar makes it possible to upload digital flyers within minutes and without having to leave your office.
District, School, and Volunteer Uploaders submit flyers to be distributed to parents via email notifications and posting on the district and school flyer boards.
To get started, log in to your Peachjar account. From the navigation bar on the left, select Submissions.
My Flyer Submissions Overview
My Flyer Submissions Overview is your submissions hub where you can do the following:
Browse Flyer Templates
Access our library of free school flyer templates using the Browse Flyer Templates button.
Post & Notify
When you have a flyer ready for distribution, select the Post & Notify button to get started.
Edit Drafted Submissions
Save your flyer submission at any point by selecting the Finish Later button. Select the Edit button on a flyer draft anytime to finish submitting.
View Pending Submissions
Flyers that are submitted for approval are listed as pending submissions until it has been approved or denied by the district or school approver.
Remove Flyer
Flyers submissions that are pending approval can be removed by selecting the Remove Flyer button.
Removing a flyer will prevent future flyer emails and take it down from the school flyer boards. It will not impact flyer metrics.

Flyers that have been removed will continue to be available in Reporting.
Flyer Templates
Peachjar offers a library of free Microsoft Word school flyer templates! To navigate to this page, go to Submissions and select the Browse Flyer Templates button in the top right. Once you find a template you would like to use, hover over the template to select and download the file. Customize your flyer and save it as a PDF file to upload.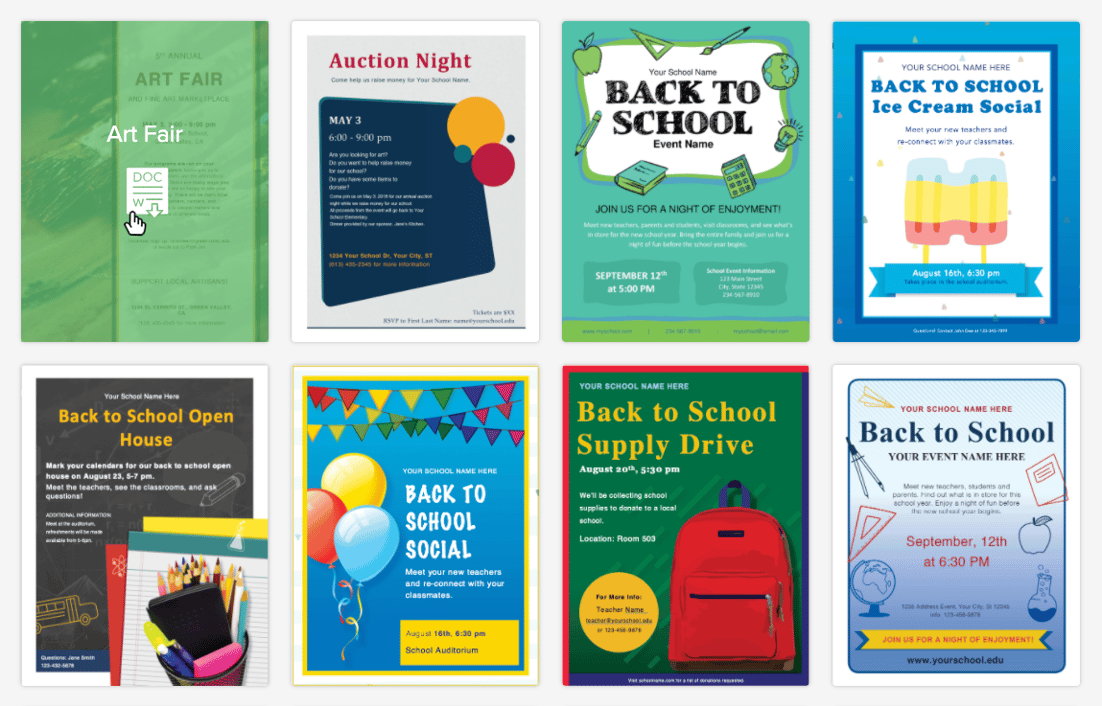 Post & Notify
You can select either Submissions > Post & Notify or you can simply select Post & Notify from the left navigation. After you have uploaded a flyer and continued to review the flyer, you can make edits or save your work by selecting the Finish Later button in the top right.
Upload & Review Flyer
Review the flyer requirements and guidelines to ensure your PDF file complies. Select the Flyer Design Guide button for a more comprehensive list and tips.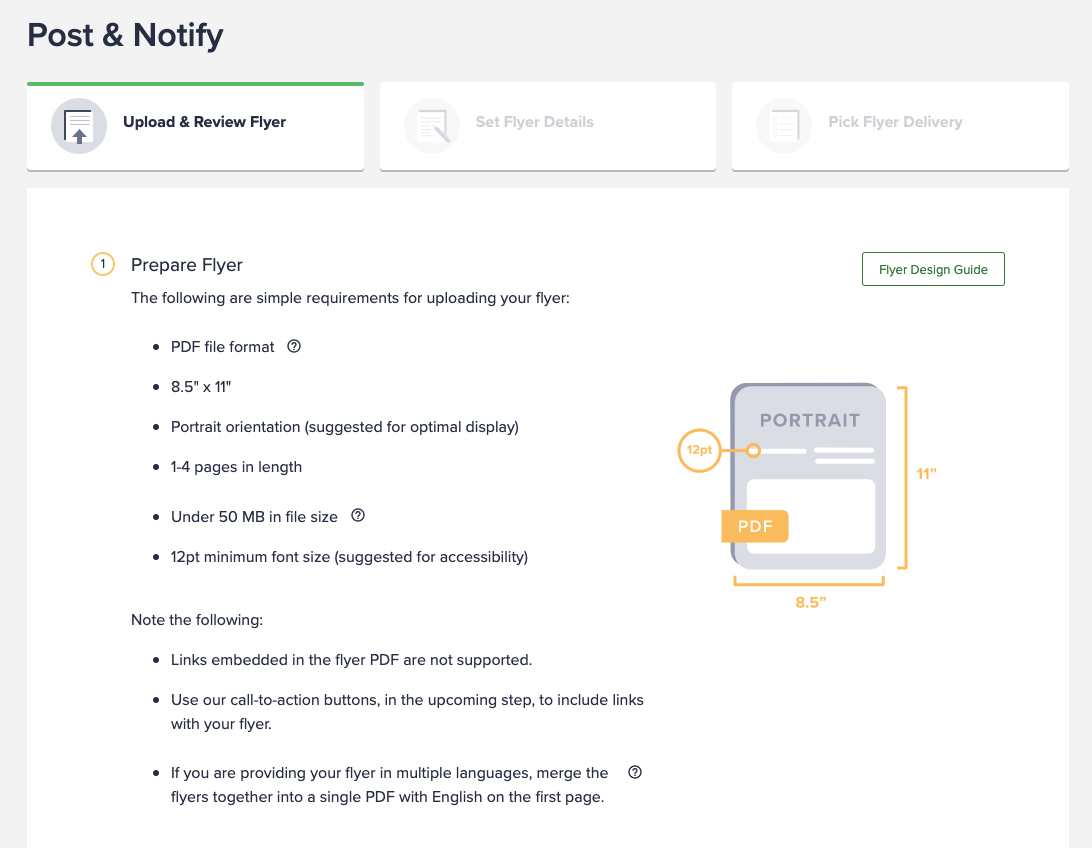 Next, select Upload PDF File to upload the flyer from your computer or drag and drop your flyer onto the gray drop zone. Files must be in PDF format, but you can upload files up to 50 MB in size!
Once the file has successfully uploaded select Continue to Review Flyer.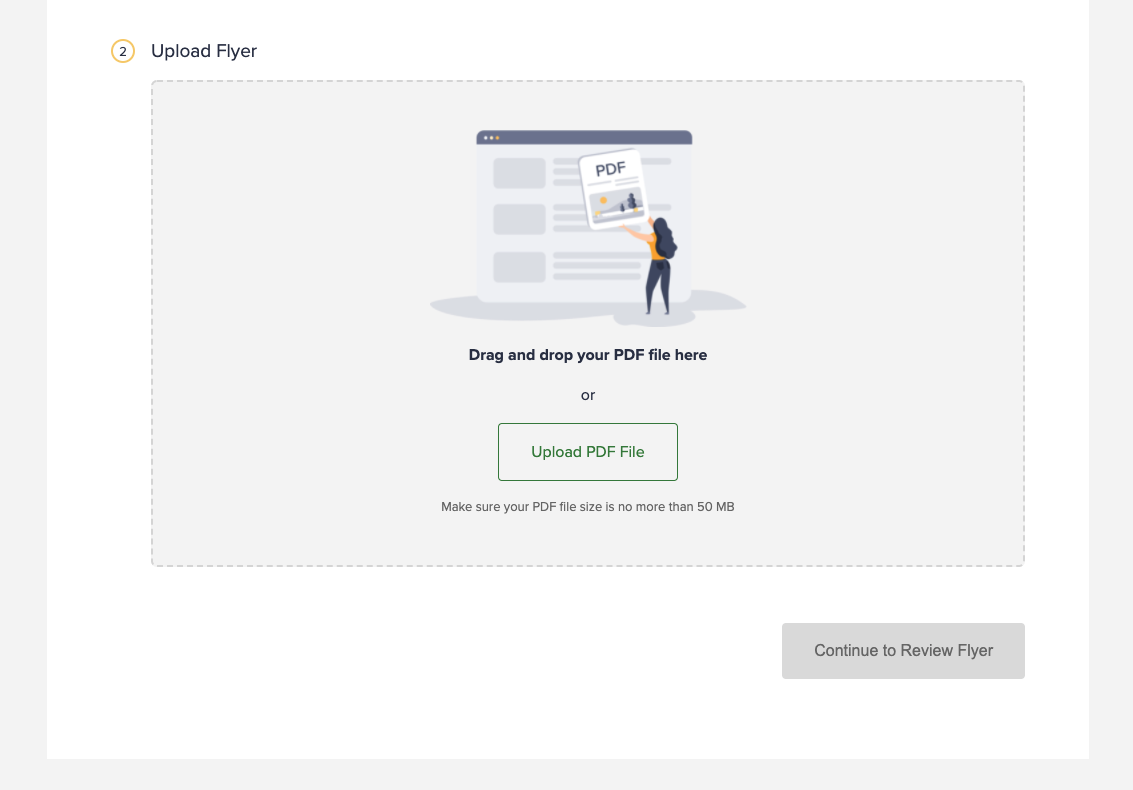 To ensure the content of the flyer will be recognized by screen readers for the visually impaired, the flyer is scanned and its content extracted to create a text version. Review carefully and make necessary edits to ensure the scanned text description matches the contents of the flyer.
If changes need to be made to the flyer, you can re-upload a new flyer by selecting Reupload Flyer. Once the flyer review is complete, select Continue to Set Flyer Details.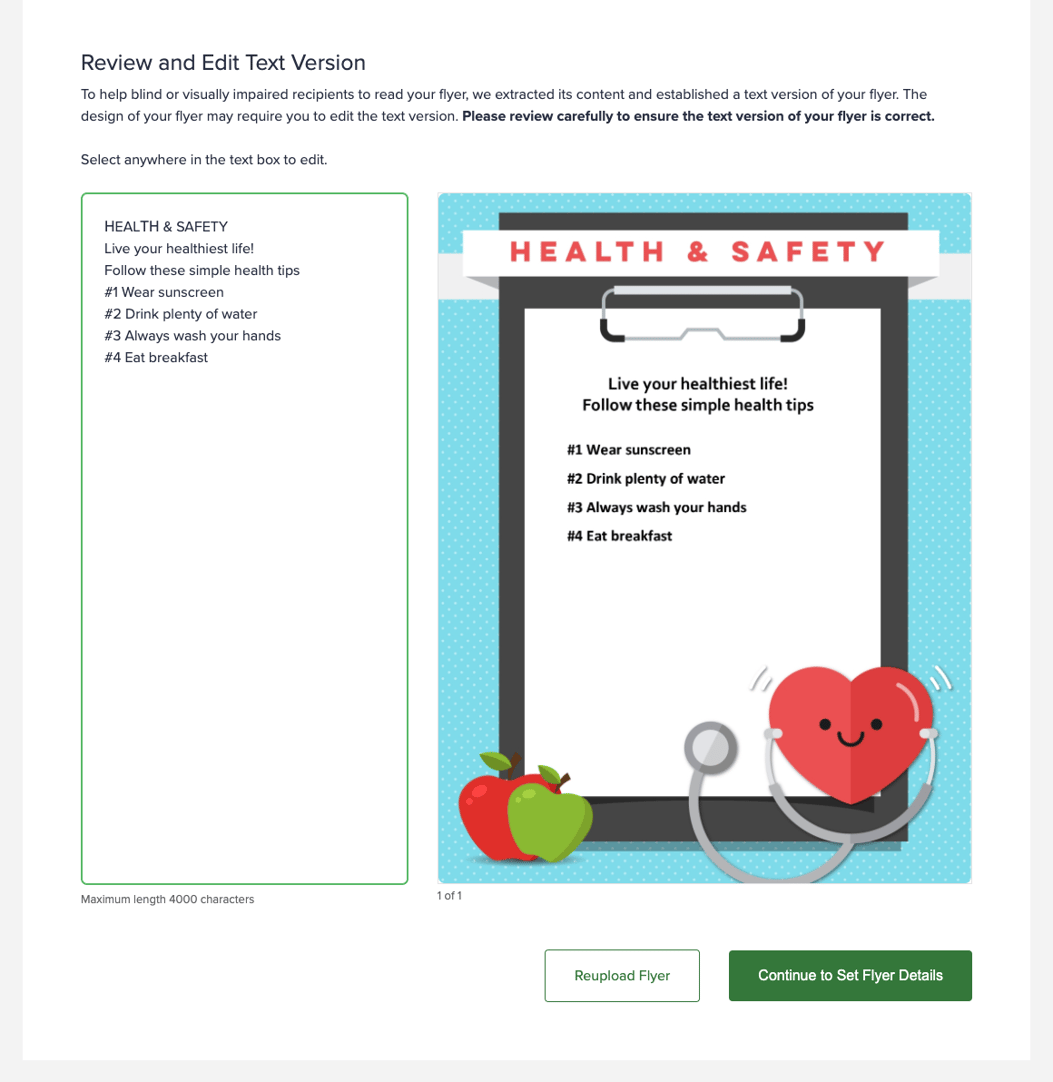 Set Flyer Details
Flyer Title
Enter the flyer title in 45 characters or less. We recommend keeping the flyer title short and simple for easier readability for parents.
Street Address
Enter the physical address of the event or program location to help parents with distance and directions.
Call-to-Action Buttons
Interactive call-to-action buttons increase parent engagement. You can add one primary call-to-action button from the options shown and "Learn More" as your secondary call-to-action button.
If you select Get App and provide an app download web address, the system will automatically detect whether the parent is using an Android or iOS and will populate the appropriate link.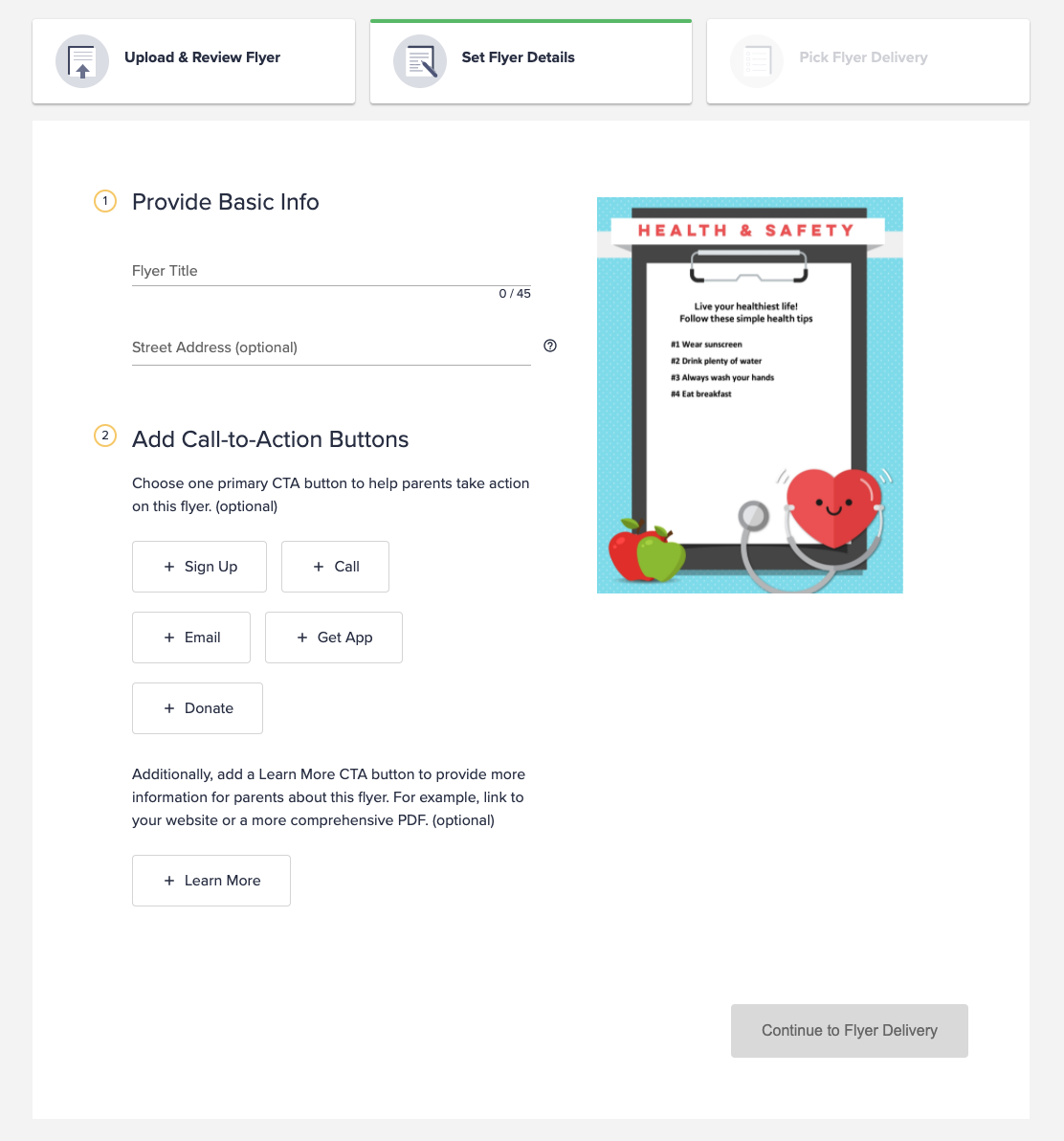 Pick Flyer Delivery
District Uploaders
Select the schools you would like to distribute your flyer to. Use the Grades filter to filter your school list by grade.
Below the schools, you will see the Staff Groups option. If your district has this set up, you may select it for distribution. If it's not set up, please contact us for assistance.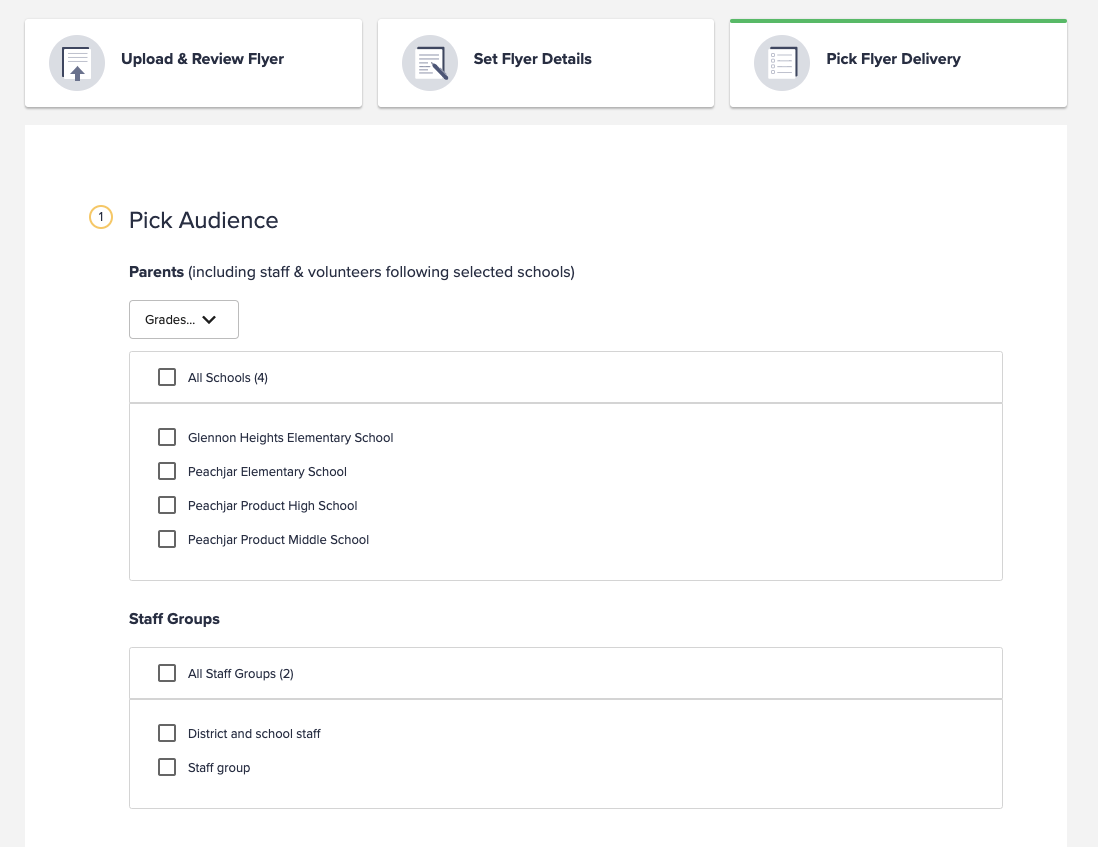 School and Volunteer Uploaders
Select your school to distribute your flyer.

Next, set your distribution settings.
Distribution Target Date
Select the date you would like the flyer to be distributed.
If your district requires your flyer to be approved your flyer will be distributed on the Distribution Target Date or on the date the flyer is approved if the Distribution Target Date has passed.





The Distribution Target Date cannot exceed 365 calendar days from the date of submission.
Distributions
Set the number of distributions you would like. Each distribution will email the flyer to parents and post the flyer on your district or school's flyer board.
Only one distribution is allowed every 30 calendar days.

You can select a maximum of 12 distributions.
Post Expiration Date
Select the date you would like the flyer to come down from your district or school's flyer board.
The Post Expiration Date is limited to the number of distributions you select.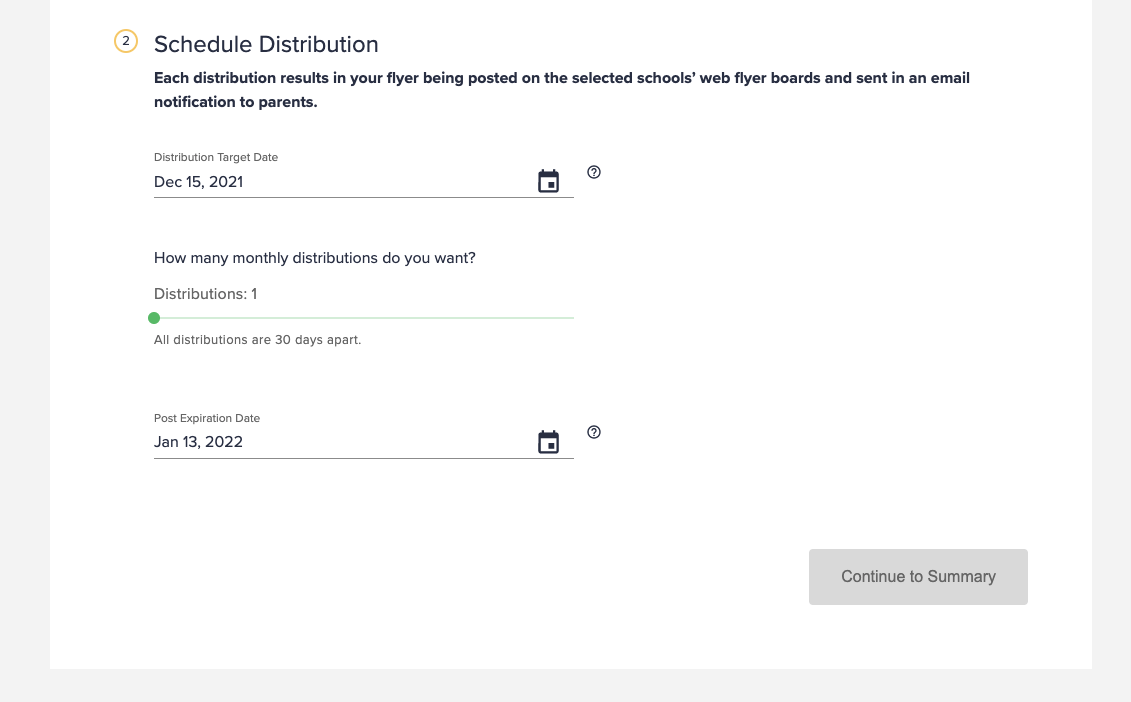 Review Flyer Details
Review your flyer details to ensure accuracy. View the schools you selected for distribution by selecting the arrow next to the count of selected schools.
Select Edit Flyer if you would like to change anything, or Submit if you are ready to proceed.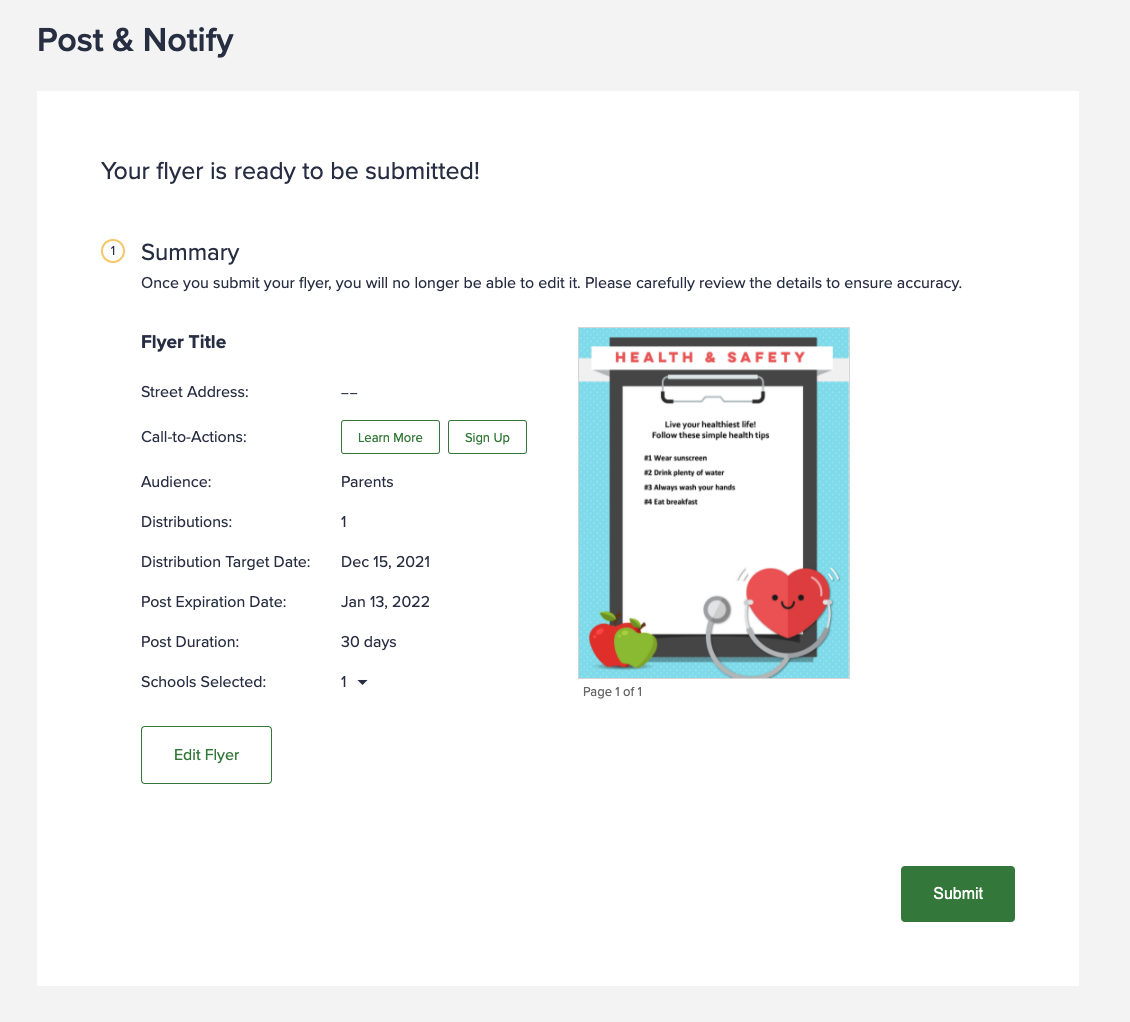 Your Flyer has been Submitted
Congratulations, your flyer has been successfully submitted! Select Reporting to view the status of your flyer or promote your flyer by selecting the Facebook and Twitter buttons or copying the link to share it out.
Once you are ready, select Done to be brought back to the Submissions Overview page.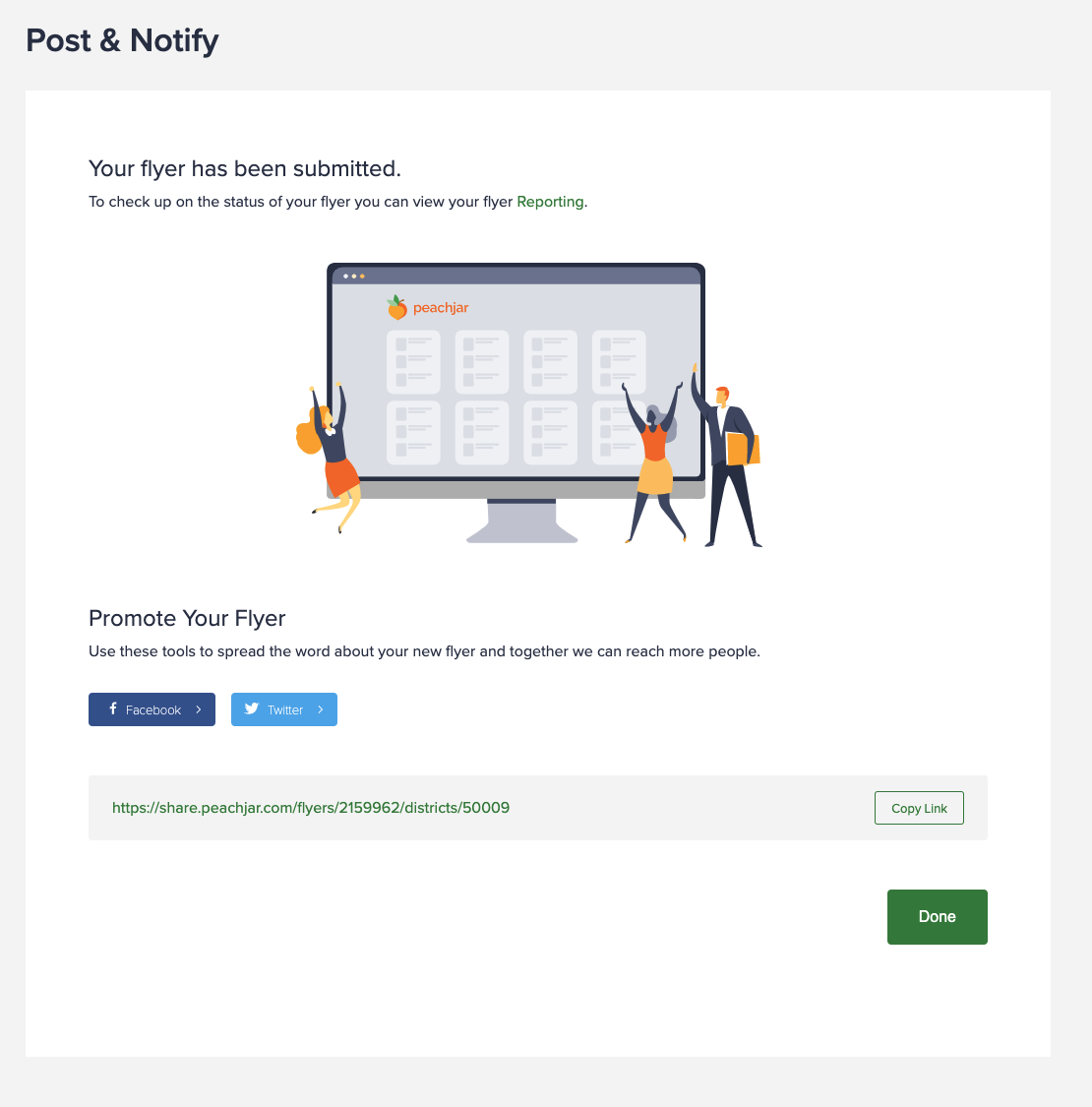 We hope Peachjar simplifies and streamlines your flyer distribution to parents. If you have any questions or feedback, please do not hesitate to contact us.
Happy distributing!