Flyer Distribution Overview
It's now easier than ever to send flyers to families! Peachjar makes it possible to upload digital flyers within minutes and without having to leave your office.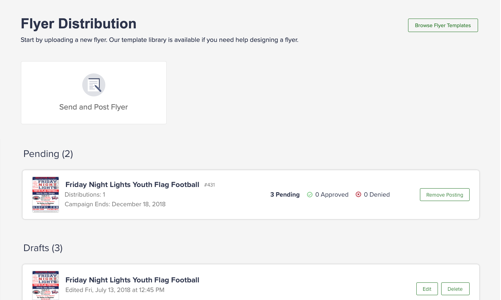 To get started, log in to your Peachjar account. In the navigation bar, click "Flyer Distribution" to access the following options:
Send and Post Flyer
When you have a flyer ready for upload, select the Send and Post Flyer button to get started.
Browse Flyer Templates
Access our library of free school flyer templates using the Browse Flyer Templates button.
Edit Flyer Drafts
Save your flyer submission at any point by selecting the Finish Later button. Select the Edit button on a flyer draft anytime to finish submitting.
Remove Posted Flyer
Flyers that are submitted for approval (with automatic approvals turned off) are listed as pending flyers until action has been taken through My Pending Approvals. Pending flyers can be removed from the school's flyerboard by selecting the Remove Posting button on a pending flyer.
All post removals are noted in the flyer's approval history.
Removing a posted flyer does not prevent a flyer from being distributed and does not impact flyer metrics.
Flyer Templates
Peachjar offers a library of free school flyer templates! To navigate to this page, go to Flyer Distribution and
select the Browse Flyer Templates button.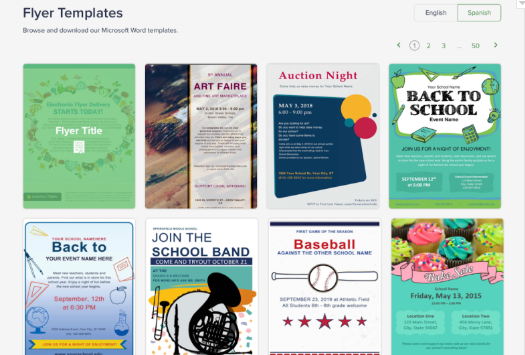 Once you find a template you would like to use, select the flyer template icon to download the Word file. Save your customized flyer as a PDF file.
How to Upload Flyers
On the Flyer Distribution page, click Send and Post Flyer to get started with your flyer submission. You can make edits or save your work during any step of this process.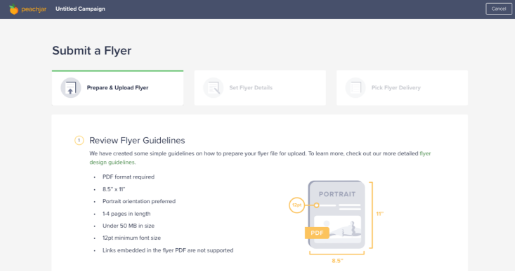 Review the flyer guidelines and ensure that your PDF file complies.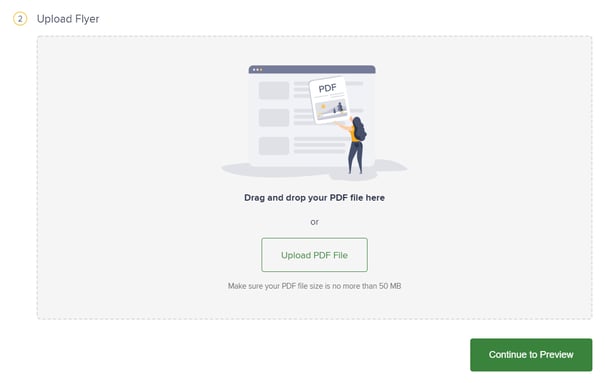 Next, click Upload PDF File, select the file of the flyer from your computer, and click Continue to Preview. You can also drag and drop your flyer file onto the dropzone. Files must be in PDF format, but you can upload files up to 50 MB in size!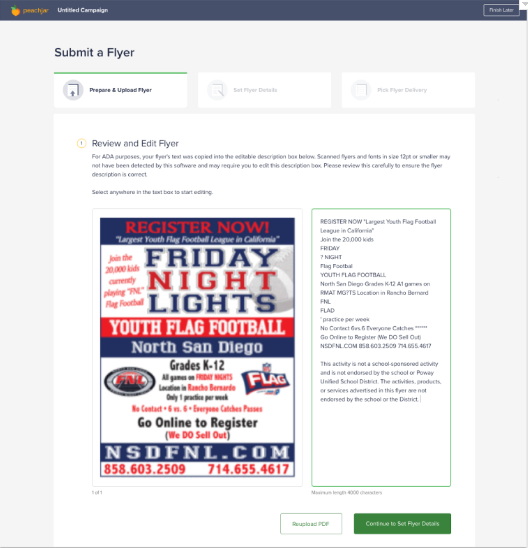 To ensure the content of the flyer will be recognized by screen readers for the visually impaired, the flyer is scanned resulting in a text version. Review carefully to make sure the scanned text description matches the contents of the flyer.
If changes need to be made to the flyer, you can re-upload a new flyer by clicking Reupload PDF. Once the flyer review is complete, click Continue to Set Flyer Details.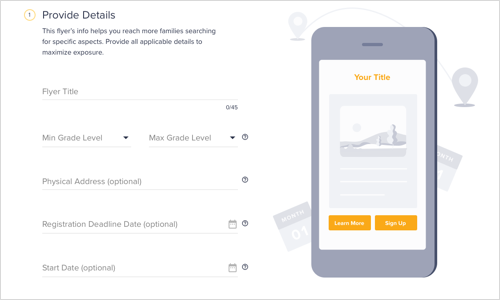 Fill out the required fields on the Set Flyer Details page.
The Flyer Title is now limited to 45 characters.
The Min Grade Level and Max Grade Level

will only be collected initially and will eventually be used to distribute flyers to appropriate grade levels and prioritize these flyers for families in Peachjar emails.
The Registration Deadline Date (optional) is the deadline for program or event registrations. The flyer is automatically removed 24 hours after the Deadline Date has passed (if there is no End Date)
The Start Date

(optional) lets parents know when the program or event starts.
The End Date (optional) lets parents know when the program or event ends and is used to automatically remove the flyer posting 24 hours after the End Date has passed.
The Participation Fee Average (optional)

will only be collected initially and will eventually be used to prioritize flyers based on family cost preferences and advanced search.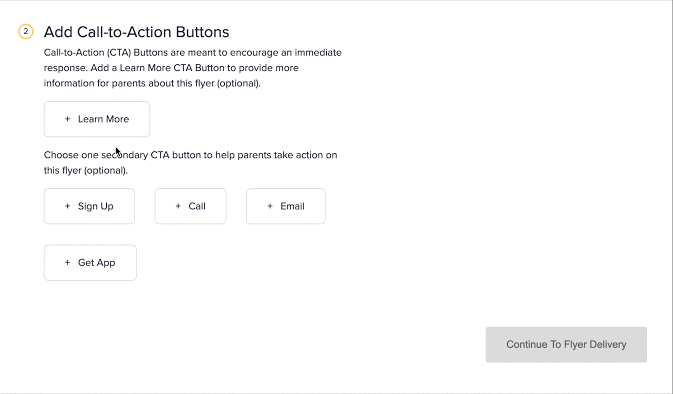 Now it's time to add interactive call-to-action buttons to your flyer! You can add Learn More as your primary call-to-action button and one secondary call-to-action button from options shown. Both are optional.
If you select Get App and provide an app download web address, the system will automatically detect whether the parent is using an Android or iOS and will populate the appropriate link.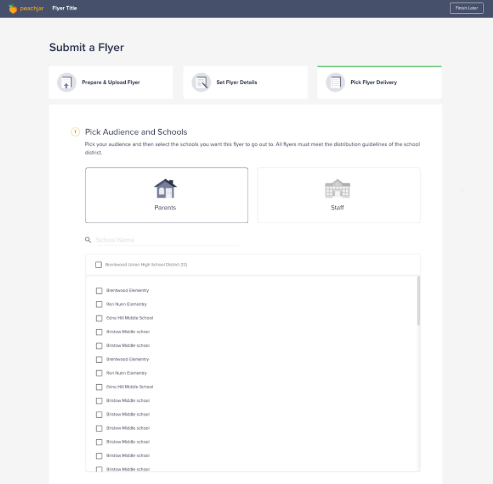 Select the desired audience for your flyer. You can select Staff or Parents. If you select Staff and there is not a staff group set up yet for your district, instructions will appear for how to create a staff list.

Set the number of distributions for your flyer –

this is how many times your flyer will be sent to parents.
Only one distribution is allowed every 30 calendar days.
The number of allowed distributions is limited by the previously entered Registration Deadline Date and End Date. If both dates are entered, the flyer will be removed 24 hours after the entered End Date.
You can also select an Initial Distribution Date to determine when your flyer will first begin distributing.
There is no limit to the number of distributions as long as the selection doesn't exceed one distribution every 30 calendar days.
The Initial Distribution Date is limited to the number of distributions and the End Date.
The Initial Distribution Date cannot exceed 365 calendar days from the time of submission.
Once you are finished, click Submit.
View the flyer summary and ensure that all details are correct. You can click Edit Flyer if changes need to be made. Finalize the flyer submission by selecting the Submit button.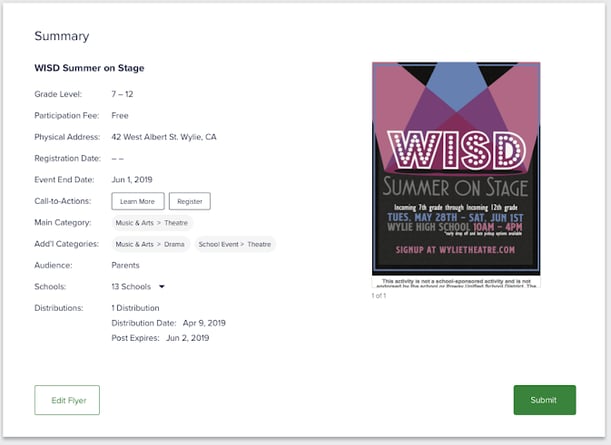 The flyer has been submitted! Click Done. You'll be brought back to the Flyer Distribution Overview page.
We hope Peachjar simplifies and streamlines your flyer distribution to parents. If you have any questions or feedback, please do not hesitate to contact us.
Happy uploading!