How to Send & Post Flyer
It's never been easier to send flyers to families. The Peachjar platform makes it possible to upload flyers for distribution within minutes and effectively reach parents without ever having to leave the office. Say goodbye to inefficiencies and hello to your new flyer distribution buddy!
Here's everything you need to know about the Peachjar Portal:
Dashboard
Welcome to the wonderful world of easy and painless flyer distribution! Within your Peachjar account, the following options are available to choose from:
Dashboard
This is the page you will see each time you log in. Access flyer submissions, deals, and reporting all in one convenient place!
Submissions
View your drafted and pending flyer submissions. This is also your starting point to post your flyer & send an email notification.
Post & Notify
Submit your flyer to be distributed to parents at your selected schools.
Reporting
Track and measure flyer performance to improve results over time.
Deals
Save on your next purchase by choosing from credit packages and other offers currently available to you.
Submissions Overview
View and manage all of your drafted and pending flyer submissions in one place!
Pending Submissions
Check the status of recently submitted flyers that are pending school approval for distribution.
Drafted Submissions
Save your flyer submission at any point to finish later. If you have flyers you would like to distribute at a later time, you can prepare them and save them as drafts until it's time for distribution.

Remove Flyer
You can remove a flyer that has been submitted and is pending school approval, to avoid having it distributed (posted to school web flyerboard and emailed to parents). Note: Removing a flyer that has already been approved by the school will remove it from the school's web flyerboard. Removing a flyer will not impact the flyer email if it has already been sent to parents. If the flyer has not been sent, the flyer send will be canceled and will not be sent to parents. Flyer reporting will not be impacted if you remove a flyer.
Post & Notify
The process of getting your flyer approved by the school district and distributed to parents doesn't have to be painful. With Peachjar, it's easy—so easy that you probably don't even need this guide. But if you'd like some guidance on your first flyer submission, here are some step-by-step instructions to walk you through the process:
On the Submissions page, click Post & Notify to get started with your flyer submission. You can shuffle back and forth through the steps to edit your flyer or save your work during any step of the submission process.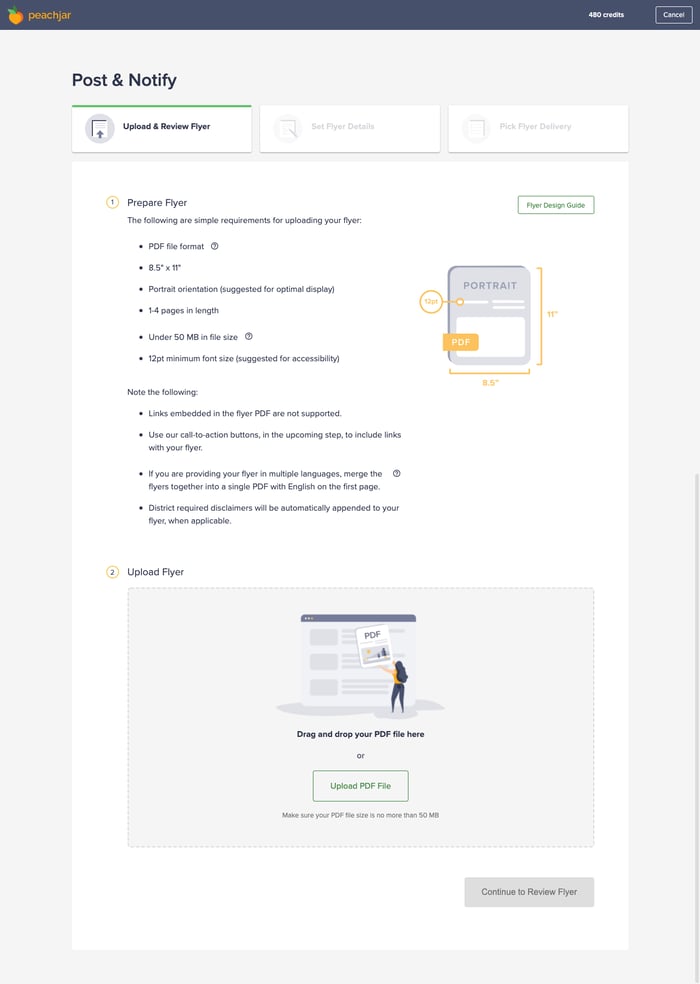 Review the flyer requirements and guidelines to ensure that your PDF file complies.


Next, click Upload PDF File, select the file of the flyer from your computer, and click Continue to Review Flyer. You can also drag and drop your flyer file onto the drop zone. Files must be in PDF format, but you can upload files up to 50 MB in size!
To ensure the content of the flyer will be recognized by screen readers for the visually impaired, the flyer is scanned resulting in a text version. Review carefully to make sure the automatically generated text version matches the contents of the flyer.
If changes need to be made to the flyer, you can re-upload a new flyer by clicking Reupload PDF. Once the flyer review is complete, click Continue to Set Flyer Details.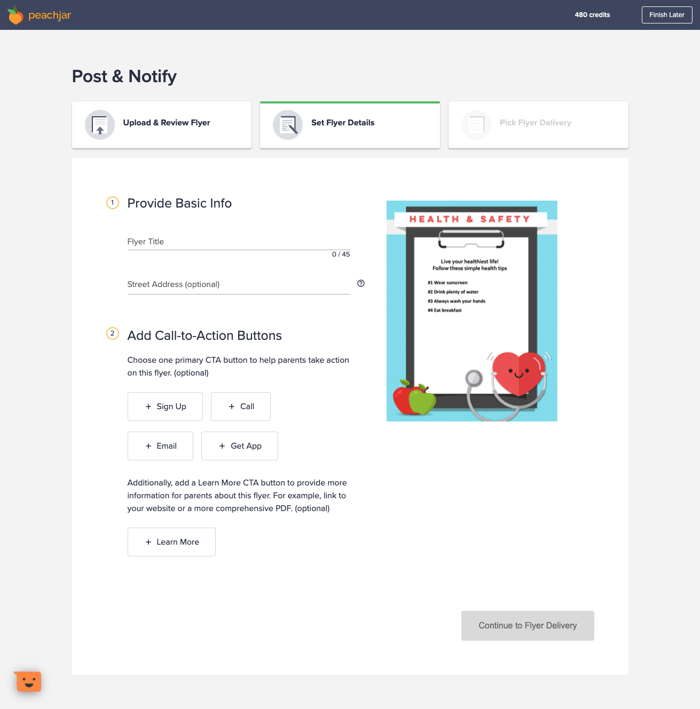 Next, fill out the required fields on the Set Flyer Details page.

The Flyer Title (required) is limited to 45 characters.

A valid Google address must be entered in the Street Address (optional) field, if filled out.
Now it's time to add call-to-action buttons that encourage parents to take action on your flyer! You can add one primary call-to-action button and one "Learn More" secondary call-to-action. Both are optional.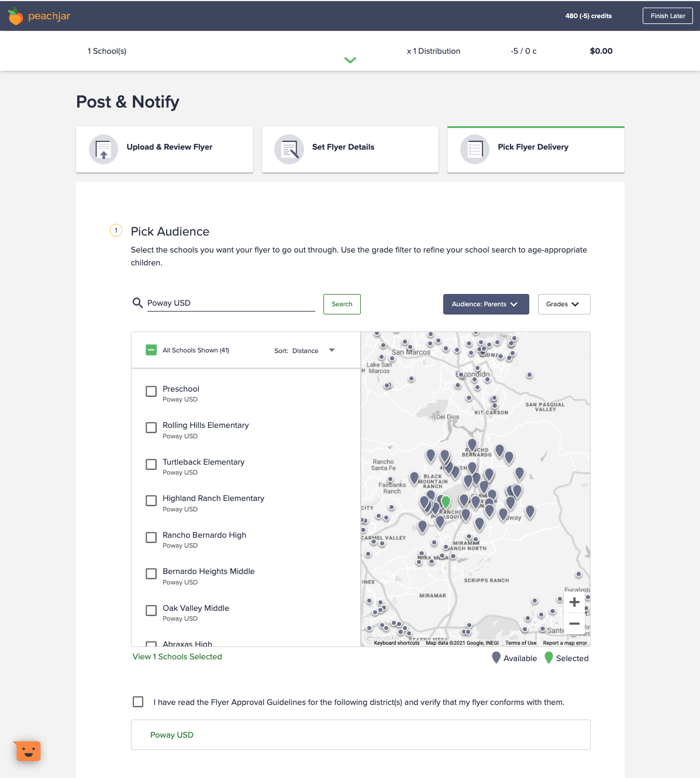 Select the desired schools for your flyer. Schools selected for distribution will appear in the distribution summary tray that appears when you click View Schools Selected. Note:

Flyers will still be sent to all parents subscribed at the selected schools regardless of age or grade. Schools listed as "Other" will be included with any/all grades.



Once you've selected your schools, be sure to review all available district flyer guidelines by clicking on their respective school district names and selecting the checkbox to confirm that you have read the guidelines. Note: Each flyer that is uploaded through Peachjar needs to be approved by the designated flyer approver at the district before being distributed to parents. Ensuring that your flyer complies with the district's requirements may help speed up the approval process and increase your chances of approval. Guidelines may not be available for every school district.
Select a desired Distribution Target Date to determine when your flyer will begin distributing to parents. Note: Your flyer will distribute upon approval if the school district approves the flyer after the Target Distribution Date has passed.

Next, select the number of monthly distributions for your flyer – this is how many times your flyer will be distributed. Note: Only one distribution is allowed every 28 days. In addition to an email notification, your flyer will also get moved to the top of the school flyerboard with each monthly distribution.

Choose your Post Expiration Date. This field will be limited by the amount of distributions previously selected. Note: Your flyer posting will automatically be removed 24 hours after the Post Expiration Date has passed.

To review the schools you've selected for distribution and the total cost, including any savings from applied deals, click the summary bar at the top of the page. You can also remove any schools selected for distribution from this summary.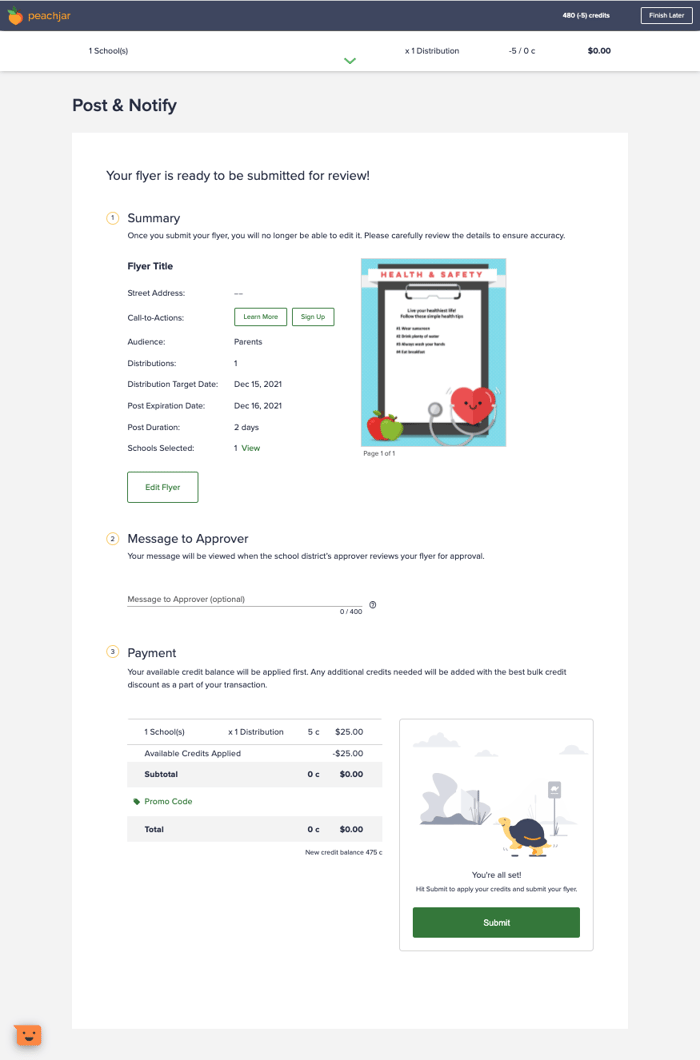 View the flyer summary and ensure that all details are correct. You can include a message to the flyer approver if you'd like.
Next, review and submit your flyer. If you wish to make any changes, you can click Edit Flyer to do so. Once you submit your flyer, your available credits will be automatically applied to your balance. Any applicable bulk credit deals will also be applied.
Post Only Districts
Some districts provide a Post Only option for distributing flyers through their school's web flyer board only. When selecting this option, an email notification will not be sent but your flyer will still be posted on the school's flyer board for up to 4 weeks. A discounted price may apply.
If you select a school that belongs to a district providing the Post Only, when picking your parent audience for flyer delivery, you'll see a Post Only Option notification below the flyer approval guidelines confirmation.
Selecting the View Details link in the Post Only Option notification opens the summary bar, at the top, where you can select this option for flyer delivery.

Reporting
See a comprehensive overview of your flyer status and performance.
All metrics on the Flyer Reporting page include both email and web flyerboard numbers.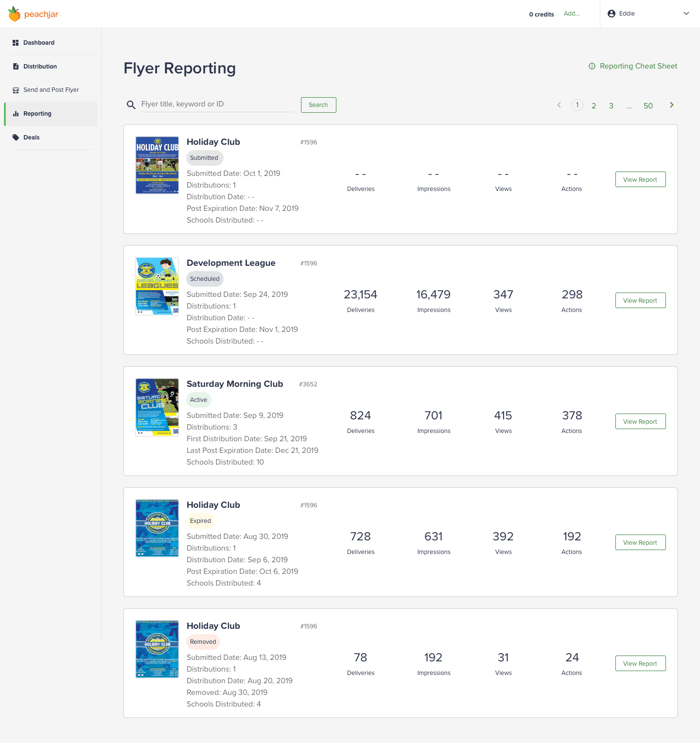 In addition to basic flyer details, here are the other metrics that will appear for each flyer:
Deliveries - number of emails delivered to a valid inbox.
Impressions - number of emails opened and instances the flyer was presented on web flyerboards.
Views - number of instances the full flyer webpage was viewed from emails and web flyerboards.
Actions - number of actions taken from emails and web flyerboards such as Sign Up, Share, Add To Calendar, etc.
You can also see the current status of each flyer on this page. Here is an overview of the different status types:
Scheduled: when the flyer will be distributed at a future date
Active: when the flyer has been sent to at least one recipient
Removed: when the flyer has been deleted
Expired: when the post expiration is passed and the flyer posting has come down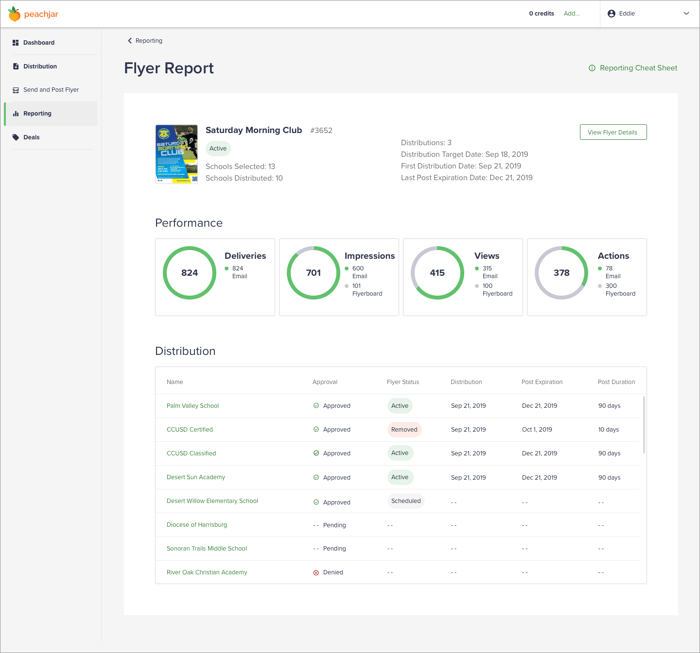 To access a comprehensive breakdown for a specific flyer, click
View Report
.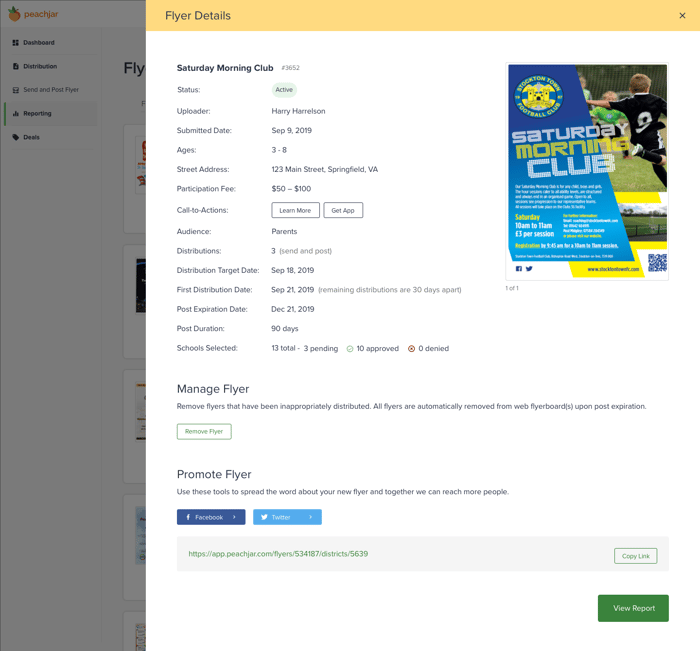 Click the flyer card to view all flyer information like dates, audience, and call-to-action buttons. You can also select the call-to-action buttons to verify your flyer links are working properly.
Share your flyer through your school's Facebook and Twitter accounts to promote your program or event. You can also simply copy the flyer's public web URL to share via email, text, chat, etc.
Deals
Who doesn't love deals?! Here you can view all available deals and purchase credits for your flyer distribution needs. When you add credits, any applicable bulk credit discount will be auto-applied. Apply a valid promo code for an additional discount.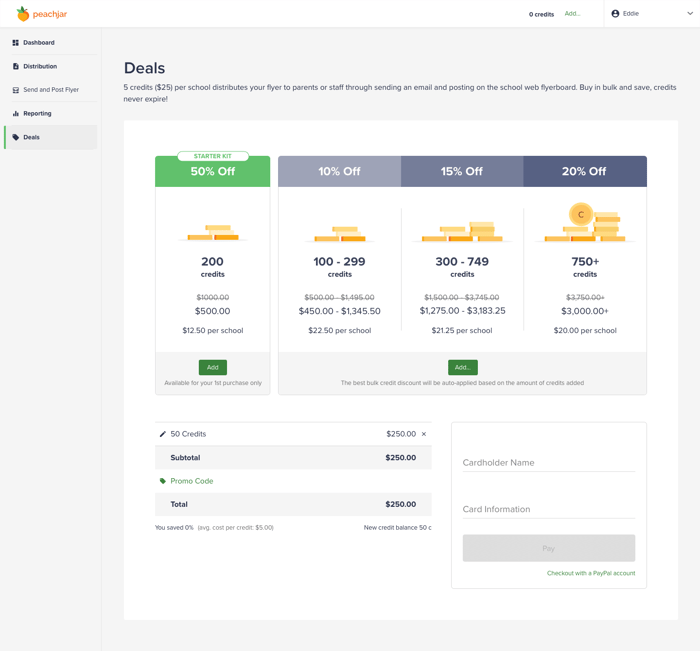 Transaction History
Need to look up a previous transaction? You can navigate to Transaction History by clicking your name in the upper right. Here, you can view all purchases and credit balance activities associated with your account.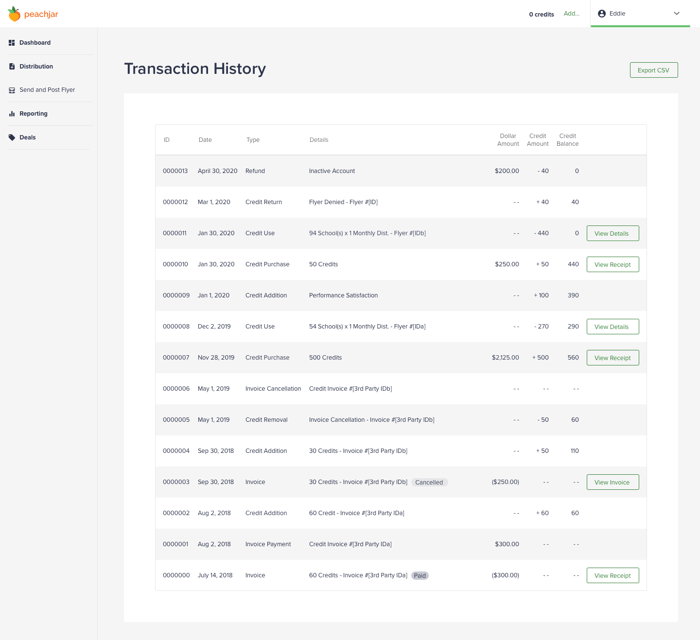 Click Export CSV to download your entire transaction history or click View Details or View Receipt for additional details. You can also print a copy of your credit purchase receipt.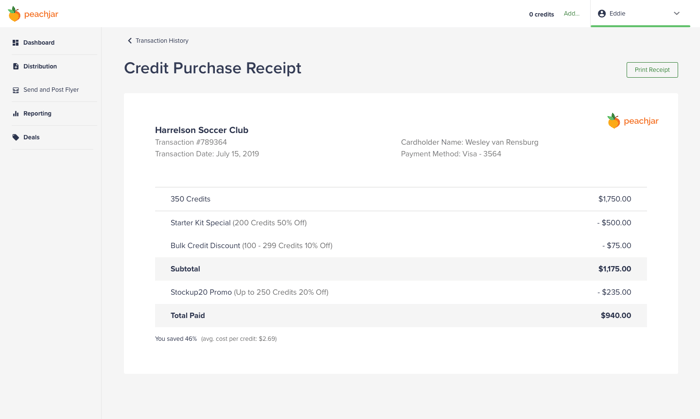 View and update your account information by clicking your name in the upper right and selecting Account Information. If you are a non-profit organization, you can also add a Federal Tax ID / EIN and a Letter of Determination file to help facilitate flyer approval for districts that require this documentation.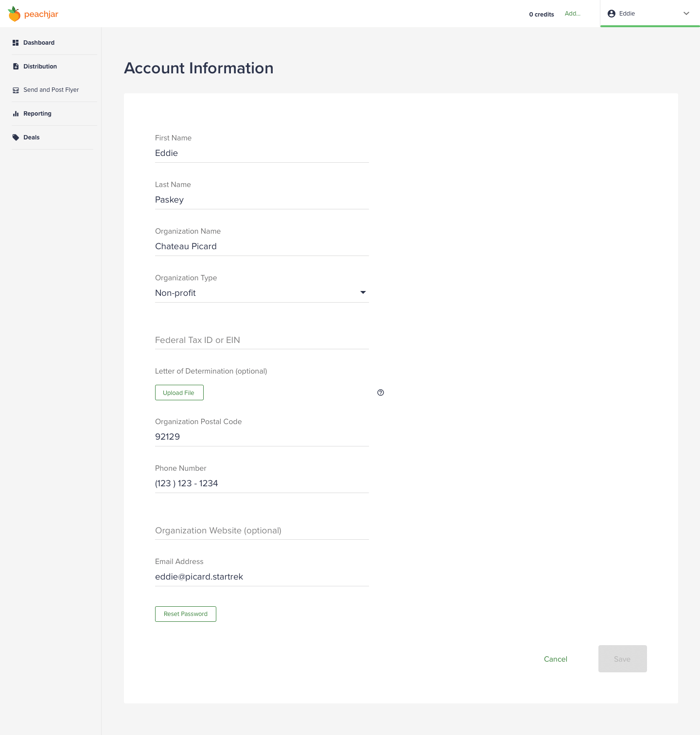 Help
Here you can access training guides, read FAQs, or contact us for assistance. Your success is important to us so let us know how we can help!
We hope the world of Peachjar makes flyer distribution a breeze for your organization! If you have any questions or would like to provide feedback, contact us. Happy uploading!