Prepare Flyer
Use the following requirements:
PDF file format

Size 8.5" X 11"

Portrait Orientation

Under 50MB in file size

12pt minimum font size
Note: Links embedded in the flyer PDF are not supported.
Upload Flyer
Once your flyer is in PDF format, click "Upload PDF File."
Click "Continue to Flyer Review."
Review and Edit Text Version
To help blind or visually impaired recipients to read your flyer, we extracted its content and established a text version of your flyer. The design of your flyer may require you to edit the text version. Please review carefully to ensure the text version of your flyer is correct.
Edit the text:
Click in the text box to edit the information on your flyer.

In this stage, you can reupload the flyer by clicking "Reupload Flyer" at the bottom of the page.

When you finish editing the text, click "Continue to Set Flyer Details."+
Set

Flyer

Details
Provide Basic Info
Flyer Title: Provide a title for your flyer.

You can provide an optional street address. This is to assist people with distance and directions.
Add Call-to-Action Buttons
As an option, you can choose one primary CTA button to help parents take action on this flyer. Click "Continue to Flyer Delivery" after this step.
Sign up: Add a sign-up URL; this will appear in the flyer email.
Call: Add a phone number; this will appear in the flyer email.
Email: Add an email so they can reply back.
Get App: Include a web app so that they can download it.
Donate: Include a URL, where they can make a donation.


Learn more:

Additionally, add as an option the "Learn More" CTA button to provide more information for parents about this flyer. For example, link to your website or a more comprehensive PDF.
Note: You can only add one CTA button.
View schools near program's location
Adding the address of your event:
Pick Audience
Parents (including staff from specific schools)
Flyers distributed to a school's parents are also distributed to staff and volunteers who are "following" that school. Each staff member and volunteer can change their preference for following the school(s) they are associated with in their account information.
Alternatively, flyers can be distributed to all of the school district's staff and volunteers or to the staff and volunteers at selected school sites by picking the "staff" option. The flyer will be distributed to both parents and staff at the schools selected above. The staff of the school are by default following their school.
Grades
Quickly select a set of schools by specifying the schools' grade range. Selecting a set of schools by specifying the schools' grade range results in flyers being distributed to all parents subscribed to each relevant school. For example, if you limit the schools' grade range to 3-5, all parents who subscribe to schools with 3rd, 4th, or 5th grade will receive the flyer.
Staff Only
Flyers will be distributed to staff only. From the list, you can choose which school staff members to send the flyer to.
Switching Audience
If you switch the type of audience when one or more schools are selected, you will be notified that all current school selections will be discarded upon switching audience type.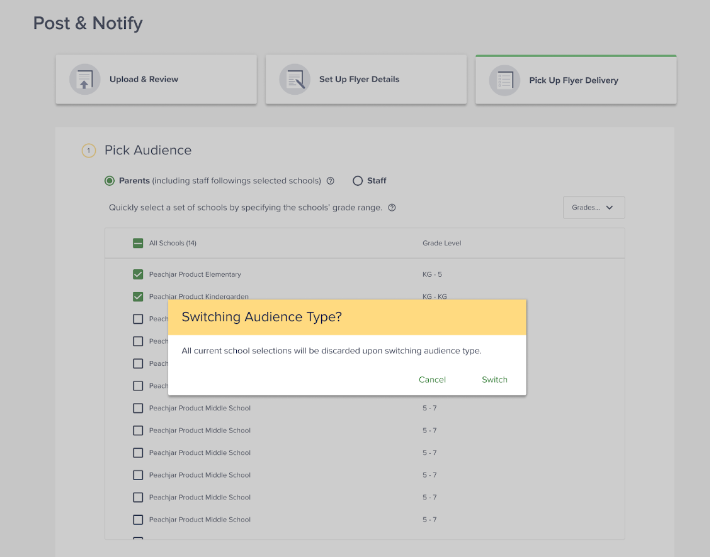 Schedule Distribution
Each distribution results in your flyer being posted on the selected schools' web flyer boards and sent in an email notification to parents.
Post Expiration Date
Add the date you want the flyer to expire. The Post Expiration Date is automatically set in 28 days. District/School users can expire the flyer anytime within the current school year. The end date of a school year is July 31st.
Your flyer is ready to be submitted!
Summary
Once you submit your flyer, you will no longer be able to edit it. Please carefully review the details to ensure accuracy. If you need to make changes to the flyer or the text version, click "Edit Flyer."
Your flyer has been submitted!
After you click "Submit," you can promote your flyer.
Additionally, to check up on the status of your flyer, you can go to Reporting to check the status of your flyer.
We hope Peachjar simplifies and streamlines your flyer distribution to parents. If you have any questions or feedback, please do not hesitate to contact us.